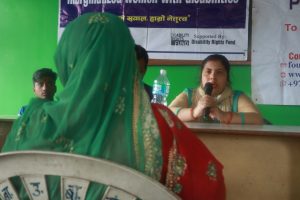 Dialogues series with WWDS and multiple stakeholder.
Pahichan Nepal completed its first phase in Kalaya Municipality, Bara, Madesh Pradesh, which took place from 1st April to 3rd April 2023 with the support of the Disability Rights Fund. For the training, we included 40 women with disabilities, including those who were visually impaired, partially sighted, deaf, hard of hearing, and have a physical disability. We also included those with autism and Down syndrome. We tried to select the participants from an intersexuality perspective. The women were indigenous, Madhesi, single women, Dalit, and Muslim. This program was two days of leadership development and communication training and one-day multiple stakeholder meetings. During the inauguration, the Pahichan chairperson, Ichhya K.C. welcomed the guests and shared the workshop's objectives.
The training consisted of 3 different categories: an introduction, group work, and exposure to the program where women with disabilities issues were discussed and mainstreamed. The training was facilitated by legal expert Ms. Ichyaa KC; chairperson of Pahichan Nepal. She has worked in this field for 12 years. Before the session began, participants were asked to share the issues and troubles they had encountered in daily life. Participants were divided into groups to discuss within a group and present their difficulties and norms. At first, there was a language barrier; most participants could not say their names and hesitated to express their problems. We also strategically hired a local disability leader for the translation and facilitation it supports to bridge the gap between participants and the organizer. Through this network, Pahichan tried to be more familiar with individuals. After some interaction, facilitators shared their struggles which were translated into Bhojpuri. Then they started feeling more comfortable sharing their issues. In these two days, we introduced leadership and advocacy. We motivated them with a success story of women leaders and encouraged them to raise their voices. As an example, parents of autistic children and Down syndrome children have shared their stories collectively about discrimination that they faced from society and their in-laws. The 3rd of April was a one-day workshop on focus groups with women with disabilities, media persons, members of the disability coordination committee, the CDO officer of Bara district, the deputy mayor of Kalaiya municipality, and also the public representative of the local ward.
Many others have shared their issues, and we should motivate them to raise their collective voices for women with disabilities in Madesh Pradesh. This program was likewise covered by online news media and published on social media platforms. We also created a short documentary about this program and posted it on our YouTube channel.