Under the support of The Rotary Club of Maleny and Rotary Australia World Community Service a 4 days workshop was conducted for Promoting Entrepreneurship training and support for person with disability along with SRHR sessions from 29th November 2021 at Dakshinkali Municipality, Kathmandu collaborating with shed the Light (STL). We included 10 WWDs representatives having physical disability, blind, and partially sighted from several district like Bara, Bardiya, Chitwan, Pokhara, and Kathmandu. As a facilitator, we hired one of our beneficiary; a blind single woman who trained and aspired other women with disabilities to be self-motivated.
 The training session started with the orientation of the raw materials and procedures to make phenyl and liquid soap. After that, the production and manufacturing of the product was started under the facilitation of the trainer and guided by the volunteers as well. Further second session followed by packaging of the product and learning marketing strategies and promoting self- entrepreneurship. We discussed about the tactics of exposing the product in the market and also show some demonstrations about it. After the session, under the voluntarily involvement of Registered Nurse, we conducted the participative discussion in regards to dignified menstruation, maintaining menstrual hygiene and reproductive health.   Regarding Day 3, On the occasion of 30th disability day, we distributed sanitary pads and white canes to the women with disabilities as well as conducted Sexual Health and Reproductive Rights session to make them aware about their reproductive health rights, exhibition of the products made by participants during project time was also conducted at STL home in the presence of deputy mayor Mrs. Basanti Dangol of Dakshinkali Municipality. A special program with the performance of the singers Kishora Aryal and Sagar lama was also organized on the same day as their presence made the day worth and blissful. In the last day, we conducted the session regarding menstrual hygiene, reproductive health, safe pregnancy and about the family planning measures where the women with disabilities could openly talk about their issues and discussed them.  After that the liquid soap making session started with great energy and effort and later packing was done followed by the orientation of marketing strategies.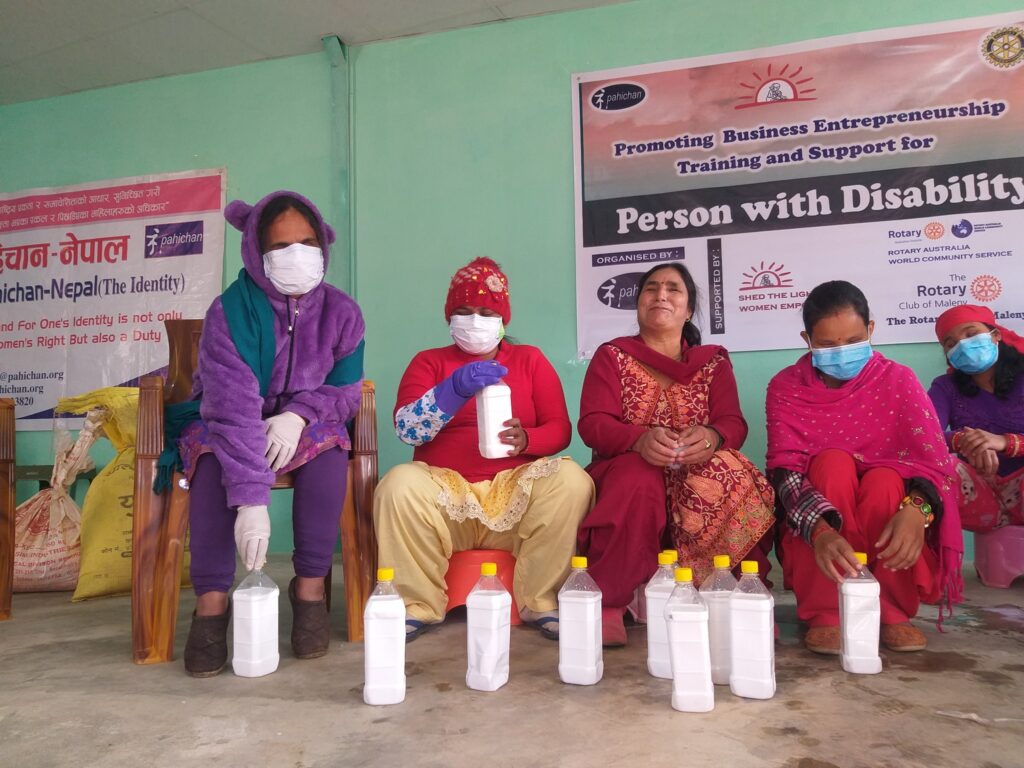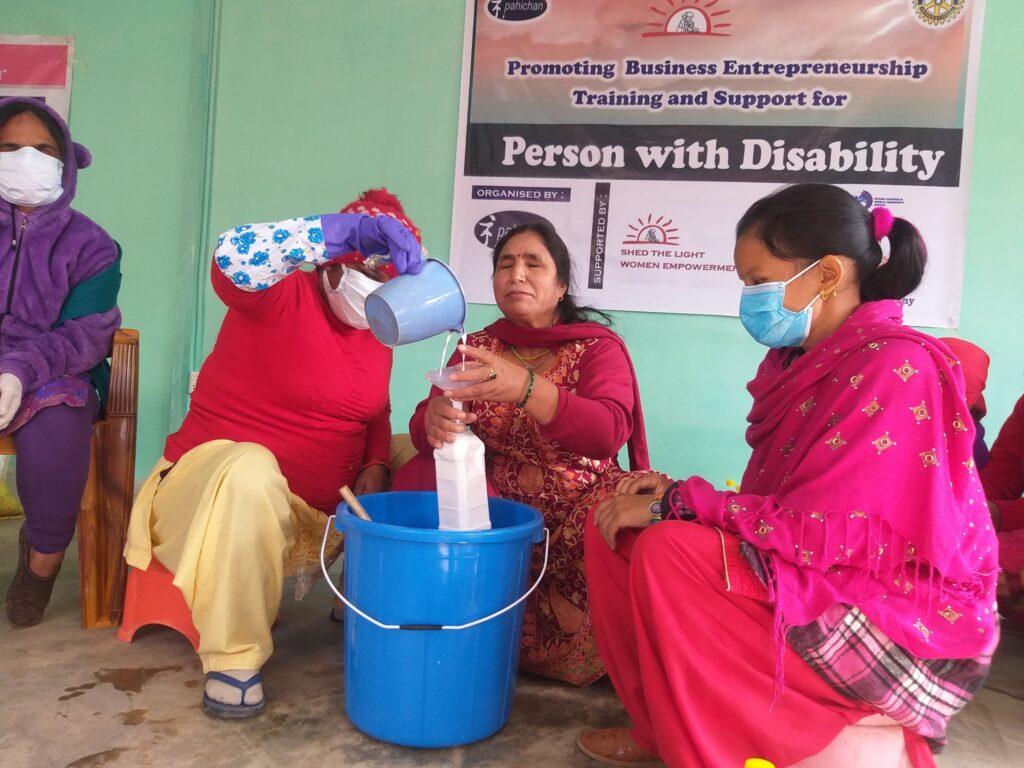 By the end of session, participants were quite confident about being able to manufacture phenyl and liquid soap in large scale and gained required information about the marketing, promotion strategies, financial management and get confident to expose their product with the motive to start their own enterprise.
 Objectives:
To promote self- entrepreneurship in women with disabilities.
To support them in learning income based skills.
To initiate and promote the idea that women with disabilities can also learn the entrepreneurship skill.
To support the women with disability to be financially independent.
To develop and boost confidence in participants about their potential and belief to lead a dignified life.
To aware the participants about utilization of their full potential so that they can empower themselves further without any support.
To support the participants with the product marketing and exposure.
To counsel the participants about business strategies and product demonstration techniques.
To counsel them about menstrual hygiene and their sexual and reproductive health rights.
To provide them real market exposure and product selling ideas through exhibition.
Outcomes:
By the end of the session, participants were skilled enough to manufacture and sell their products in market.
Participants were aware about the business strategies and ideas required to establish a business entrepreneurship firm.
The training session and further counseling about related skill and business promotion gave them confidence and inspired them to utilize their acquired skills in income generation.
Having the skill and strategies supported their will of leading and sustaining a dignified and comfortable life.
Participants learned and realized the importance of being financially independent.
Participants got the support for their further entrepreneurship and business ideas.
Stakeholders and local entities assured to provide required marketing support to sell the manufactured product by the participants.
Participants were aware about menstrual hygiene and their sexual and reproductive health rights.
Throughout the training sessions, participants were encouraged to develop their skills for income generation which led to their demand for extending the training session for few more days so that they can practice and learn additional skills under the trainer's guidance. They also wanted to join more of such skill-based training sessions in upcoming days which was quite motivating for us. Because of our team effort and proper management the training session was successfully completed and the impressed stakeholders provided commitment to further help participants with deserving and reasonable market value for their financial liberation and sustainable business establishment through that skill.
 The facilitators, stakeholders, volunteers, participants and our team members were satisfied with the successful completion of the program and were motivated to conduct more of such training sessions in coming days.
Local stakeholders and Deputy Mayor also gave us applause and appreciated our efforts and the contribution we have been providing to support and liberate the life of women with disabilities which made our whole purpose of initiating and conducting such programs worth. Menstrual hygiene and SRHR counseling sessions were found to be very informative and useful for the participants through their health perspective.