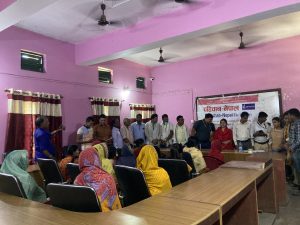 Dialogues series with WWDS and multiple stakeholders.
Pahichan Nepal has accomplished the workshop with multiple stakeholders at Simranghad Municipality, dated 6th May 2023. For the training, we included 40 women with disabilities including visually impaired, partially sighted, and having physical disabilities in Madesh Province. The workshop consists of local ward representatives from Simranghad municipality along with the Deputy Mayor and Section officer. Parents were present too along with children.
Women with disabilities raised their voices to get employment opportunities, and training like sewing, handcrafting, and knitting.  Participants raised their queries for employment to regain respect in social standards. Then we started sessions and a formal; meeting with stakeholders, section officers, and local representatives in the initiation of the program where the issues of women with disabilities were discussed and mainstreamed. The training was facilitated by.Women with disabilities from Simranghad municipality were freely talking about the challenges and issues faced by them. The program was also covered by online news media and published on social media platforms We have also uploaded a short documentary video on our official YouTube Channel.